Upgrade Your Thermostat
A solution you will use (and enjoy) every day.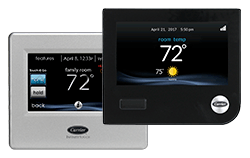 Modern WiFi thermostats offer far more than temperature adjustment. Stylish and user friendly, smart controls allow you to set and forget. The thermostat takes care of keeping you comfortable, while also saving you money, adding convenience to your life and letting you worry about other things. With nearly endless styles and features available, there's a smart thermostat that's right for you, and Stadtler Heating & Cooling will make sure you find it.
Simplify everyday life with a WiFi thermostat from Stadtler Heating & Cooling!
Stadtler Heating & Cooling partners with such industry leaders as Carrier, Ecobee, Honeywell, Nest and Aprilaire. Family owned and operated since 1896, we understand local weather extremes and draw from extensive practical experience. We match your heating and air conditioning equipment, lifestyle and goals to reliable, easy-to-operate and cost-saving products. Give Stadtler Heating & Cooling a call at (630) 318-4143. Tell us your expectations. We'll explain options, provide helpful recommendations and handle proper installation and setup. It's that simple!
Speak with a reputable technician today to learn about the advantages of a WiFi thermostat
Some of the many options and features of smart thermostats include:
With learning capability, the thermostat gets to know your preferences and builds a schedule accordingly.
Sensors allow you to target and prioritize comfort in specific rooms.
Sensors and location of your phone let the thermostat know when the house is empty and it automatically adjusts to save energy.
Room sensors work to manage hot or colds spots and ensure more even comfort.
Energy tracking shows when you use more energy and how to better conserve.
Voice command capability makes it easy to adjust temperature or programs.
No matter where you happen to be, you have access to all features from your smartphone, tablet or laptop.
Trim between ten and twenty percent from annual heating/cooling costs.
Precision temperature settings and control optimizes comfort.
Connects with accessories such as humidifier, dehumidifiers & ventilators.
Get alerts for concerns such as temperature fluctuation or power outages.
Compact design, touch screen and customizable display suits any decor.
[h2] [h3]
Stadtler Heating & Cooling
January 8, 2019
2023/05/27