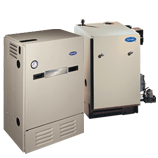 No matter how severe the weather in DuPage County, IL and surrounding areas, Stadtler Heating & Cooling keeps you perfectly warm without draining your budget. Partnering with a range of industry-leading manufacturers and upholding qualification as a Carrier Factory Authorized Dealer, we offer the benefits of modern hydronic heating systems. Today's boilers are exceptionally energy efficient, quiet, reliable and with regular professional maintenance, tend to last and last and last. Plus, there's simply no match for the gentle, even comfort of radiant heating.
Offering boiler maintenance, repair, and installation throughout DuPage County, IL and surrounding areas
Boilers continue to gain popularity throughout Downers Grove, Hinsdale, Lombard, Glen Ellyn, Villa Park, Westmont, Lisle, and Darien, IL. Lower heating bills, decreased environmental impact, superior indoor air quality and the easy set up of personalized heating zones makes hydronic heating hard to beat.
Get in touch with a qualified boiler technician today at Stadtler Heating & Cooling!
Whether you're constructing your dream home, replacing an existing heating system, interested in annual service or in need of skilled repair of any make or model of boiler, Stadtler Heating & Cooling is here to help. Family owned and operated, we continue a reputation built on four generations of excellence. Our team is entirely NATE-certified, factory trained and dedicated to your complete satisfaction.
Boilers – What Do They Do & What Are Advantages and Disadvantages vs. Traditional Furnace Heating
There's a lot of confusion about what boilers actually do.
We're here to help you understand the purpose of a boiler and why you might want one.

What is the difference between a furnace and a boiler?
A furnace and a boiler can both heat your home, but they do it in different ways.

A furnace creates warm air that is circulated through your home by a series of fans. That warm air comes out through air ducts in various rooms in your home.

A boiler creates hot water or steam that travels through pipes in the walls and floors or baseboards of your home. The heat radiates from the surfaces of the walls and floors or from the baseboards so we call this "radiant heat."

What are the pros of heating your home with a boiler, as compared to heating your home with a furnace?
There are two main reasons people choose a boiler, rather than a furnace, to heat their homes.

1. Boilers are more energy efficient and considered more "green."

A boiler creates a closed loop system. What this means is that when the hot steam cools and turns back into water, it returns to the tank to be heated again. But, it is not totally cold water at that point – it is still warm. So it takes less energy to turn the water back into steam than it takes to constantly warm cool air, like a furnace does.

Additionally, there are now models of boilers that can burn wood, corn pellets, and other renewable fuels. This is not only more environmentally friendly, but it can also keep your fuel costs lower than it costs to run a furnace on gas, especially in cold climates like the Chicago area.

2. Boilers provide more even, comfortable heating.

Boilers distribute heat more evenly than a furnace can. Because furnaces push warm air out air ducts, areas far from air ducts or spaces without air ducts like closets can end up being colder than the rest of the home. As long as the steam or hot water pipes are installed well in your home, this is much less of an issue with a boiler heating system.

Also, homes heated by furnaces are more likely to be dry than homes heated by steam or hot water. Human bodies like a consistent level of moisture in the air and many people in northern climates find they suffer from dry skin as soon as heating season begins. That is much less likely to happen in a home heated by steam or hot water because there is no blowing air.

Finally, furnaces have a greater chance of creating drafts in your home as the fans cycle on and off.
There are a couple of other perks to boiler heating:
Boilers are quieter because there are no fans cycling off and on; they are lower maintenance than furnaces because you don't need to change or clear any filters; and, they are much better for people with allergies because dust and allergens are not carried throughout your home with boiler heating the way they are with forced air (furnace) systems.

What are the cons of heating your home with a boiler, as compared to heating your home with a furnace?
There are a few downsides to boilers.

First of all, they are considerably more expensive to install than furnaces are because the installation is more difficult and takes longer. While this cost may be offset in the long run, the initial cost output is a consideration for many homeowners.

Secondly, boilers take longer to adjust the heat in your home than a furnace does. If you want a quicker response time when you change the setting on the thermostat, a boiler might not be the right choice for you.

Finally, although the industry has made great strides in the durability of steam and water pipes, leaks are always a possibility. Since the pipes for the steam or hot water run throughout your floors, walls, and ceilings, a leak can cause significant property damage. That's why it is especially important that homeowners hire a company with good reputation and solid history to install boiler systems.

If I have a boiler, do I need a hot water heater as well?
If you are using a boiler to heat your home, you don't necessarily need a separate hot water heater to deliver hot water to your faucets and showers.

That being said, in most cases we recommend that homes with boilers have separate, high-quality hot water heaters. This is mainly because heating your home and providing hot (or warm) water to your home are two very different functions and because of that, hot water heaters are designed substantially differently than boilers.

High-quality hot water heaters are designed to deliver water at any temperature. Boilers do a better job at, well, boiling water – no surprise there! That means that controlling the temperature of water delivered to faucets and showers can be more difficult for boiler systems.

Furthermore, if you use a lot of hot water in a short period of time – like if a few people take showers at the same time or back to back – your boiler will need to refill itself with cold water, which will then take longer (and need more energy) to heat up enough to warm your home. Conversely, a separate hot water heater means your hot water consumption will not affect the heat of your home or the amount of energy it takes to heat your home.

It's worth noting, however, that this may not be the case with lower-quality hot water heaters. We recommend investing in the highest-quality hot water heater for your hot water needs for this reason, especially if you rely on a boiler for home heating.
[h2] [h3]
Stadtler Heating & Cooling
January 8, 2019
2023/09/24