IAQ (Indoor Air Quality) is a concern in every home in DuPage County, IL and surrounding areas. While a tight thermal envelope is necessary to prevent energy waste, reduced ventilation traps pollutants and threatens your family's health. Considering poor IAQ has been linked to allergies, asthma, lung cancer, and heart problems, proactive measures are necessary. Simply give
Stadtler Heating & Cooling
a call at (630) 318-4143. We specialize in
heating
,
air conditioning
, air quality and whole-home improvement.
Choose Stadtler Heating & Cooling for a new indoor air quality installation!
We've got you covered.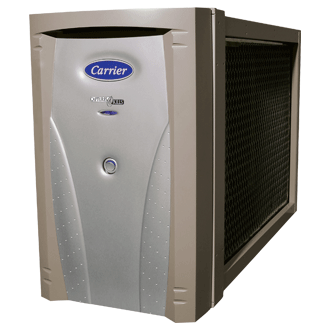 By completing accurate analysis, the ACCA-certified professionals from Stadtler Heating & Cooling provide a customized and sustainable strategy. As a Carrier Factory Authorized Dealer, we offer a complete range of efficient, quiet and low maintenance air quality accessories. We further partner with such well respected manufacturers as Honeywell, AprilAire, Honeywell and more, ensuring the right answer for your specific issue and HVAC equipment.
Contact us today and take advantage of our indoor air quality services!
Consider the benefits of a ventilation system. Like opening a window without energy losses, a ventilator freshens the air, gets rid of excess humidity, helps to combat overly dry air, and even trims heating/cooling costs. Stadtler Heating & Cooling is happy to explain the many benefits, recommend the ideal system and complete installation. Established in 1896, we've seen the consequences of neglected air quality, and remain committed to straightforward, effective, and affordable solutions. Don't ignore the health, cleanliness, safety and comfort of your home. Stadtler Heating & Cooling is hear to help you breathe easier.
Consider the many rewards of Indoor Air Quality accessories:
Air Cleaners – Installed directly into the HVAC system, air cleaners help to maximize equipment life and efficiency, and take advantage of a built-in filter to trap dander, pollen, dust, mold, mildew, fungus, tobacco smoke, and much more.
Air Purifiers – Kills up to 99% of germs and viruses that cause colds and flu, eliminates mold spores from the air, combats unpleasant odors, traps up 95% of particulate, and keeps the home cleaner and healthier.
Dehumidifiers – Handles the whole home, lessens the workload of the air conditioner, handles any size home, discourages the dust mite population, combats mold and mildew growth, protects furnishings, eliminates that sticky feeling, helps you sleep better, eases symptoms of asthma and allergies, and allows higher thermostat settings for cost savings.
Fresh Air Ventilators – Provides fresh air automatically, all year round, without energy waste, creating more uniform temperature and humidity levels throughout the home, reducing heating/cooling costs, enhancing comfort, eliminating odors, and ensuring a healthier and more enjoyable indoor environment.
Humidifiers – Partners with the HVAC system to introduce essential moisture into the air, decreasing the likelihood of catching the flu or cold, reducing chances of infection, enhancing comfort, protecting home furnishings from drying out, saving money through lower thermostat settings, and minimizing symptoms of dry skin, asthma, allergies, and more.
[h2] [h3]
Stadtler Heating & Cooling
January 8, 2019
2023/09/24