Geothermal HVAC Repair, Geothermal HVAC Installation & Geothermal HVAC Service

Lombard, IL, Glen Ellyn, IL, Downers Grove, IL, Westmont, IL, Lisle, IL & Darien, IL

Geothermal heat pumps are the most environmentally friendly, energy efficient means of temperature control. Achieving a 400 percent efficient rating, the system creates four units of energy for every unit of electrically produced energy. Geothermal heat pumps draw from the stable temperature found underground, simply transferring rather than burning heat, and resulting in an approximate 70% savings on utility bills. Give Stadtler Heating & Cooling a call at (630) 318-4143 to find out if geothermal heating/cooling is right for you.
Experienced geothermal heat pump installers at Stadtler Heating & Cooling are here to help!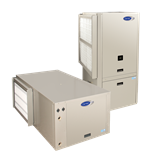 With four generations of service across the western suburbs of Chicago, Stadtler Heating & Cooling draws from extensive resources, experience and expertise to handle any challenge. As a Carrier Factory Authorized Dealer, our NATE- and ACCA-certified technicians are trained to exacting standards and well-versed in geothermal technology.
Give us a call today to go geothermal!
We're at your service: (630) 318-4143
We offer a rewarding selection of geothermal units to meet your specific demand and complete setup quickly and meticulously. Stadtler Heating & Cooling services all makes and models, providing skilled installation, repair and maintenance throughout Downers Grove, Lombard, Glen Ellyn, Villa Park, Westmont, Lisle, IL and Darien, IL.
Some of the many benefits of geothermal heating & cooling include:
There's no fear of fumes, flames or carbon monoxide.
The system produces no greenhouse gasses and the low electricity demand reduces your carbon footprint.
Low operational costs typically pays for purchase & installation in three to five years.
Increases the value of your home.
Government tax credits often reduce startup costs.
Protected from weather-related wear and tear, the indoor components normally last for several decades.
The underground loop system most often provides upwards of fifty years of reliable operation.
There's no unsightly outdoor unit detracting from aesthetics.
Beyond periodic filter changes and annual inspection, the system requires no maintenance.
Exceptionally quiet.
Wonderfully clean and safe to operate.
Exceptional dehumidification in the summer.
With no recycled air and advanced air filtration, you'll enjoy superior indoor air quality.
Produces hot water at higher efficient rate than conventional water heaters.
Geothermal HVAC Repair

∴

Geothermal HVAC Service

∴

Geothermal HVAC Installation

Stadtler Heating & Cooling

January 8, 2019

2020/01/24